As one of the states leading the country in the residential and commercial solar markets, Massachusetts ranked eight among the Top 10 Solar States by the Solar Energy Industries Association (SEIA) in 2019.  Aside from numerous health and environmental benefits, solar energy also offers financial incentives to Massachusetts residents, thanks to the Solar Massachusetts Renewable Target (SMART) program. This statewide program offers home and business owners monthly financial incentives, encouraging more residents to switch to solar. Investing in solar energy can be expensive, but with the incentives available, you will definitely save more money with solar energy in the long run.
This list features the best residential solar contractors in Boston who have helped hundreds of homeowners choose the best solar system plan for their needs so that they can enjoy all the benefits and incentives of renewable energy. We've evaluated these contractors based on the awards and recognition they've received, their customer reviews, and the quality of their work.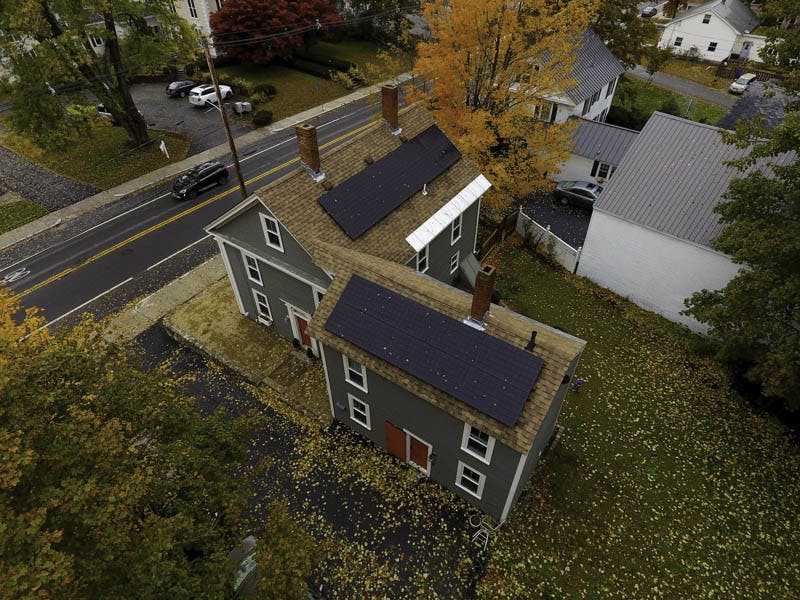 ACE Solar
1600 Osgood St. # 2043 North Andover, MA 01845
North Andover-based ACE Solar is one of the most reputable solar contractors serving home and business owners in and around Massachusetts. Ranked as the number one local solar EPC by Solar Power World for three consecutive years, the family-owned and veteran-led company has earned a reputation for providing exceptional quality installations at a great price and superb customer service. That consistent commitment to quality has gained the company multiple awards and it was recognized as the #1 Residential Solar Contractor in Massachusetts for three consecutive years by Solar Power World. Additionally, ACE Solar ranked #4 among the Residential Contractors and #52 among the Top Solar Contractors in the U.S. Their reputation is also evident in the 50-plus 5-star customer ratings on Google, EnergySage, SolarReviews, Angie's List, and Home Advisor.
Although the firm was founded quite recently—in 2015—it has repeatedly proven its expertise in solar installations with the help of its highly-skilled and experienced team. Over the last few years, the team has handled hundreds of rooftop, canopy, and ground-mounted solar projects throughout Massachusetts and New England. You can contact ACE Solar through their e-email address, info@myacesolar.com.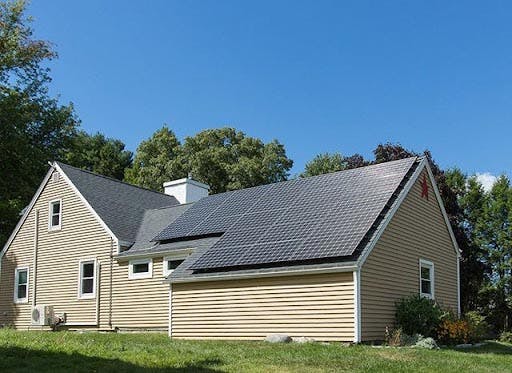 Boston Solar
55 Sixth Rd., Woburn, MA 01801
As one of the most experienced residential solar contractors in Boston, Boston Solar has completed almost 4,000 solar system installations in its eight years in the industry. The locally owned and operated company offers residential and commercial installations across Massachusetts. Today, Boston Solar offers a production guarantee on residential solar systems, assuring the energy production over the first ten years that the solar system runs; Boston Solar will pay the difference if that target is not met.
The company carries a wide array of options for solar panels, ranging from 300 to 360W. Additionally, Boston Solar installs quality racking, inverters, and monitoring software from the top brands to ensure energy efficiency and long-lasting results. In 2018, Boston Solar was recognized as a 2018 Top Solar Contractor in Massachusetts.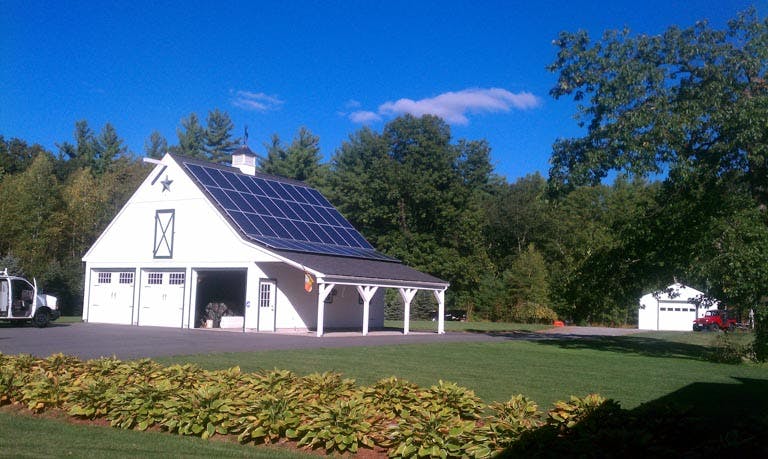 Brightstar Solar
257 Maple St. Unit 2, Marlborough, MA 01752
Marlborough-based Brightstar Solar is one of the oldest most experienced solar companies in Massachusetts. Founded by husband and wife Jon and Mona Reese in 2009, Brightstar Solar offers top quality solar components and aesthetically sensitive designs executed seamlessly by its team of solar professionals. Both Jon and Mona are North American Board of Certified Energy Practitioners (NABCEP) Certified PV Installation Professionals, which is the highest level of certification in the solar industry. In fact, Mona is one of only three women in New England who have received full certification.
Customers praise the company for making the process seamless and for delivering exceptional work at reasonable prices.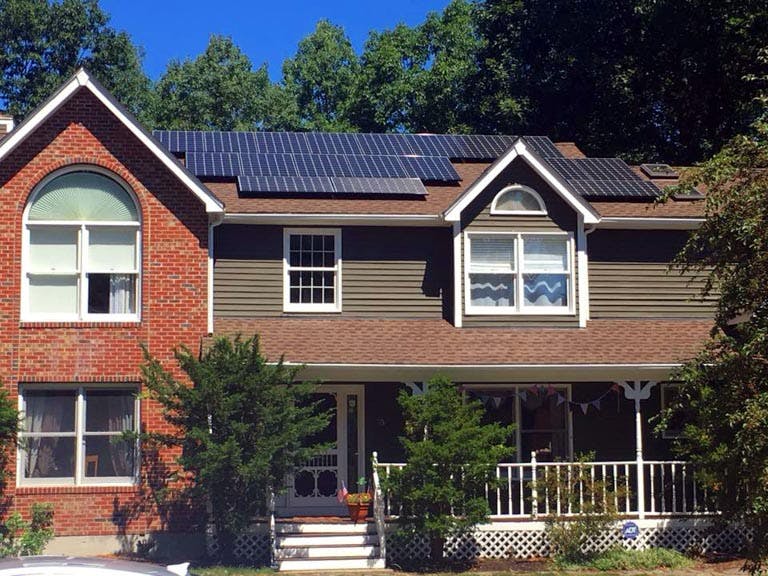 Critical Mass Solar
33 Leighton St., Pepperell, MA 01463
Massachusetts-based Critical Mass Solar provides high-quality solar panel installations at competitive rates, offering some of the best quality solar panels including LG and Enphase. The company's mission is to help clients achieve financial independence from utility providers. From complete solar PV solar system installation to working with local utilities for grid integration, Critical Mass Solar works directly with city inspectors to make sure that all the work permits and the components of your solar system are up to code.
Additionally, the company offers one of the most competitive financing options in the industry: 2.99 percent with no down payment. The company also provides free estimates and cost savings analysis. In Leominster, Critical Mass Solar installed 30 solar panels which produce around 9.9 kWh of electricity.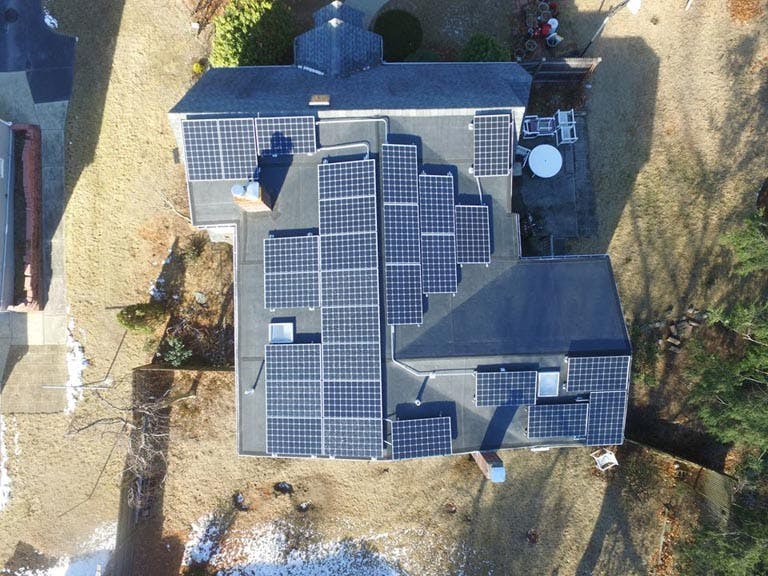 Energy Monster
100 Lamartine St., Worcester, MA 01607
Serving Massachusetts, Rhode Island, and Florida, Energy Monster is a local green expert specializing in home energy efficiency. The company offers cutting-edge home performance solutions that help save energy and lower utility bills. These services include air sealing, insulation, and solar energy as well as heating and cooling, lighting, and door and window services. The company has been in business since 2011 and is a Building Performance Institute Inc. GoldStar Contractor.
What clients love the most about Energy Monster: high-quality products, innovative solutions, but most of all its excellent customer service.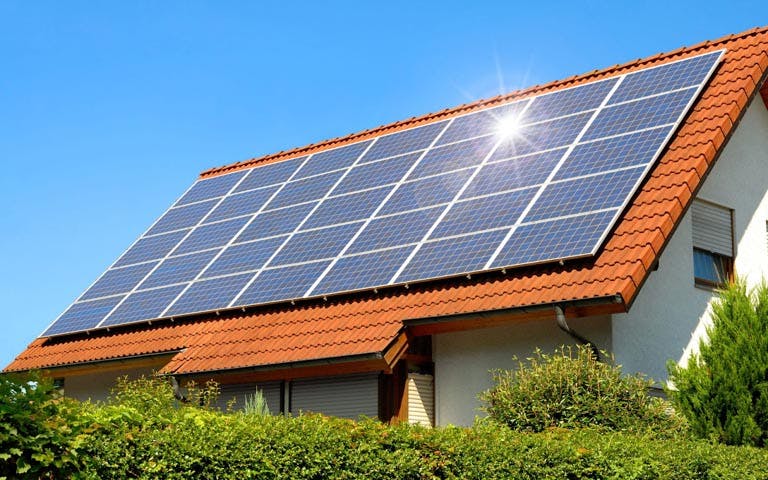 Go Green Industries, Inc.
2 Doris Rd., Westford, MA 01886
Go Green Industries has more than a decade of experience when it comes to installing and repairing solar panels, solar insulation, heating systems, and other residential solar equipment. Since 2007, the locally-owned business has completed numerous installations using top-of-the-line solar panel brands such as Enphase, LG Solar, Panasonic, SMA, and Solaredge. The company was founded by Stephen Cuzziere who worked for the largest residential roofing company in New England prior to starting the company.
Serving clients throughout Eastern and Central Massachusetts, the company also installs 100% ownership systems wherein the customer will receive all of the financial benefits, credits, and rebates, as well as an engineered design that lasts 30 years. Additionally, Go Green Industries provides free estimates and completes most of its services on the same day.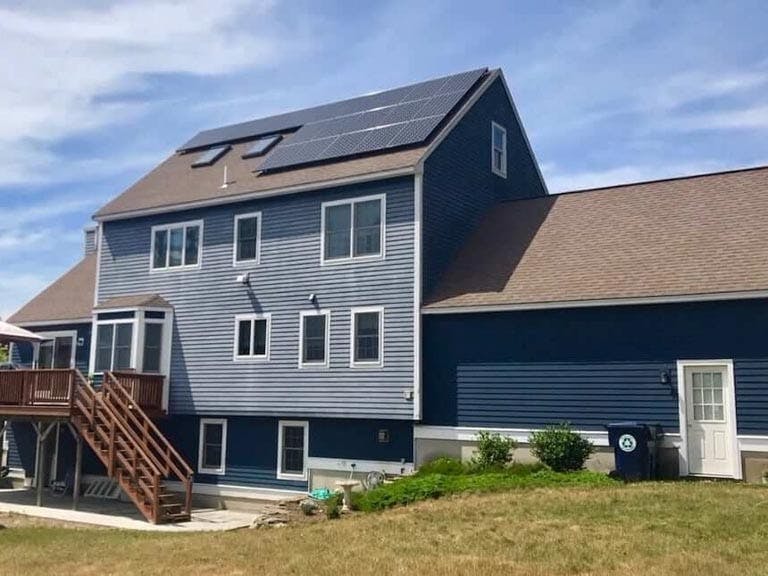 Independent Power Systems
54 West Dane St., Beverly, MA 01915
Founded in 1996, Independent Power Systems (IPS) has designed and completed numerous renewable energy systems for residential and commercial clients. Company founder Tony Boniface started Independent Power Systems with a vision to establish a company that would provide high-quality renewable energy systems. Tony holds a degree in Electrical Engineering from the University of Massachusetts and is a licensed professional engineer and master electrician. He has also developed the Power Tower, a patented, guy-less, winch-operate tilt-down tower that supports both a wind turbine and a solar array. This impressive invention taps both of these energy resources using minimal materials and cost. This system won the Zayed Future Energy Prize in 2015. Additionally, Tony has also handled international projects including the design and installation management for grid-connected solar systems for the island of Diego Gracia in the Indian Ocean for the U.S. Military.
Backed with over 200 years of combined experience in the solar industry, the IPS team delivers premium products and professional services to its clients throughout Colorado, Massachusetts, and Montana.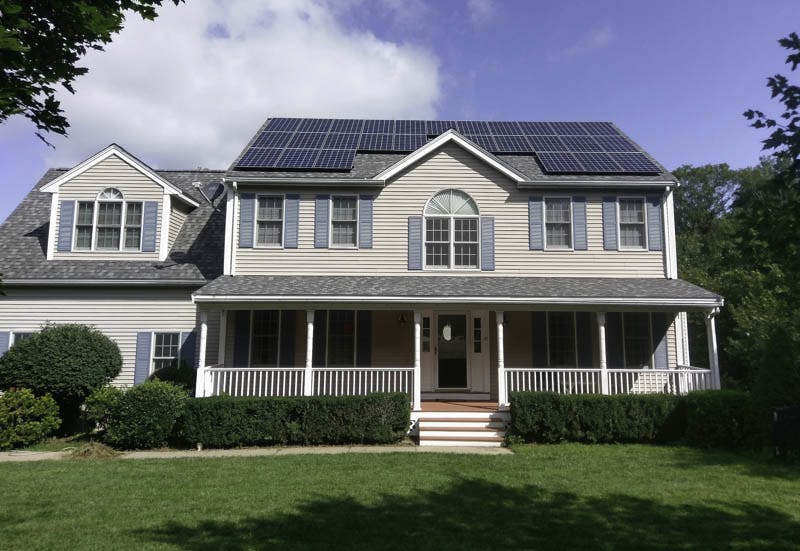 Invaleon Solar Technologies
26 Parkridge Rd. #1B, Haverhill, MA 01835
Invaleon Solar Technologies is one of the leading solar contractors serving Massachusetts, Maine, and New Hampshire. Tom Kangkui Wu, CEO of the company has years of experience in the renewable energy sector. He is affiliated with multiple organizations such as the Solar Electric Power Association, the American Society of Mechanical Engineers, the American Society of Civil Engineers, to name just a selected few. Under his leadership, Invaleon has successfully completed residential, large-scale utility, and commercial projects. Its affordable and reliable solar systems have earned the company a number of awards including being ranked on Solar Power World's 2019 Top Solar Contractors. The company also ranked eighth on the Massachusetts Top 20 List and #130 out of 415 solar contractors in the U.S.
The company takes pride in being a complete-packaged solar design and finance firm which enables it to deliver turnkey results to its clients. Invaleon Solar Technologies is a member of the NABCEP.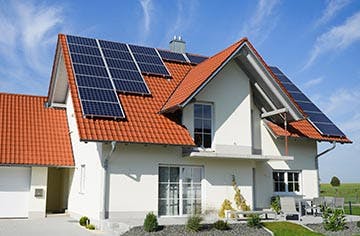 Patriot Solar Energy
130 John Suite #347, Lowell, MA 01852
Patriot Solar Energy is a locally-owned and operated company serving Massachusetts and New Hampshire clients with alternative energy solutions. The company specializes in installing cutting-edge solar generated electricity, solar heating systems, and solar roof panels. With a team of fully licensed and insured solar contractors, Patriot Solar Energy finds the best available plans and suitable financing options for its clients.
The company also provides free solar consultations to help clients find the best solar panel system for them.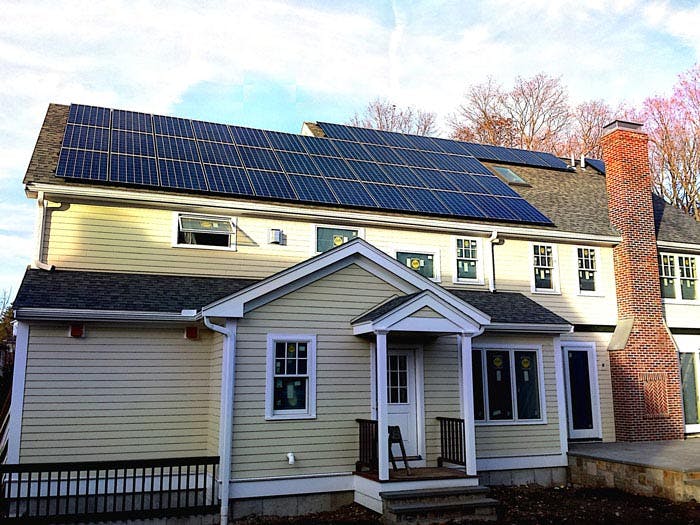 Rayah Solar
320 Nevada St., Suite 301, Newton, MA 02460
Rayah Solar prides itself on its industry-leading solar panel installation services, specializing in photovoltaic solar for residential, commercial, non-profit, and international installations. Since its inception, the company has mastered the art of turnkey and worry-free solar, making their solar services worry-free for clients. Using only tier-one products, the company stands by its promise of top quality solar systems and excellent customer service.
Rayah Solar's team has over two decades of combined local solar installation experience, guaranteeing clients to do it right the first time. Additionally, the company assigns a dedicated solar consultant and a project manager to each homeowner, giving clients a single point person to contact for better customer service.
In Newton, Rayah Solar installed 46 black-framed German solar panels on a client's brand new roof. The client was in the middle of building his dream home and wanted the best quality solar panels at the lowest possible price. Rayah Solar was able to delivered and the panels were installed before power was even connected to the house.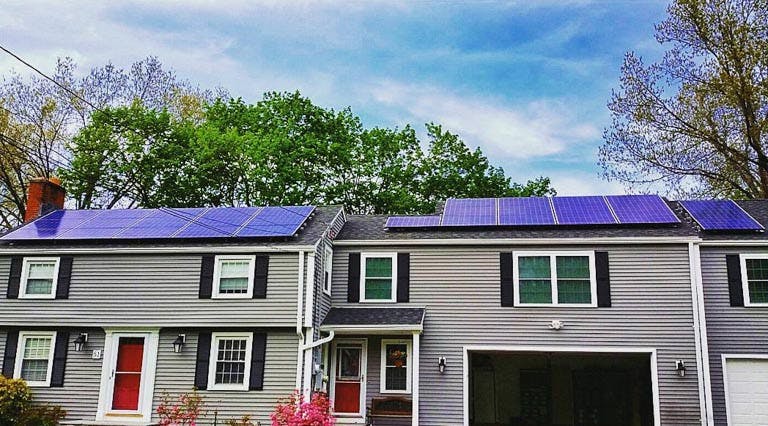 Skyline Solar
1 North Ave. Suite A, Burlington, MA 01803
Based in Burlington, Revolusun has been providing high-quality solar products and services to its clients throughout Massachusetts since its founding in 1996. The company's mission is to provide homes with reliable and sustainable power, carrying top of the line brands from premium manufacturers. Coupled with the team's superb installation service, Revolusun has garnered numerous five-star reviews from satisfied clients.
In addition to solar designs and installations, Revolusun also provides energy storage, home energy monitoring, electric vehicle chargers, and other energy-efficient products. Additionally, the company provides 25-year product, performance, and labor warranties.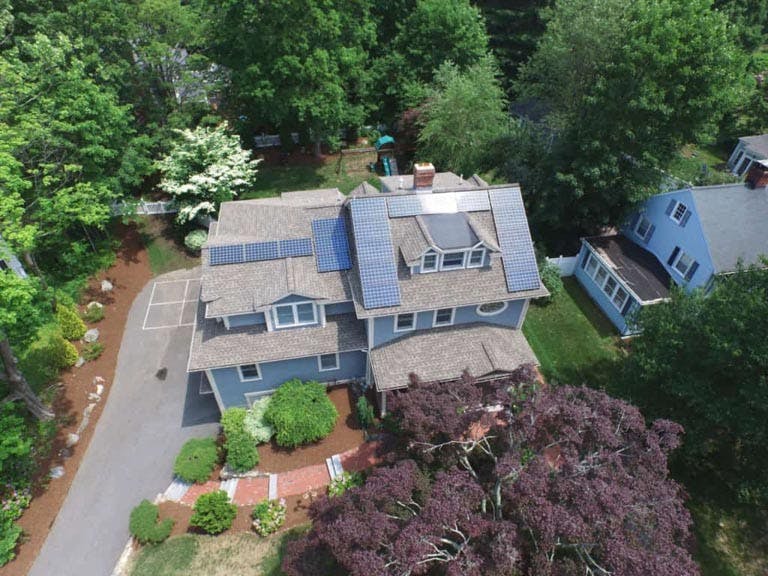 Solar Five
420 Bedford St. Suite #375, Lexington MA 02420
Solar Five puts a premium on customer service and building long term relationships. Known as the Massachusetts neighborhood-operated solar power provider, the Solar Five team believes that a better world starts at home and that solar power should be accessible to everyone. As such, Solar Five provides financing options to help clients get the best plan for them. In addition to rooftop solar systems, the company also offers ground mount solar systems, which can be a great option for those homes with unqualified rooftops. Solar Five also does commercial installations to add to their already long list of offerings.
The Better Business Bureau-accredited company offers a wide array of solar panel plans that will suit each client's budget, using the top solar panel and solar inverter brands in the market.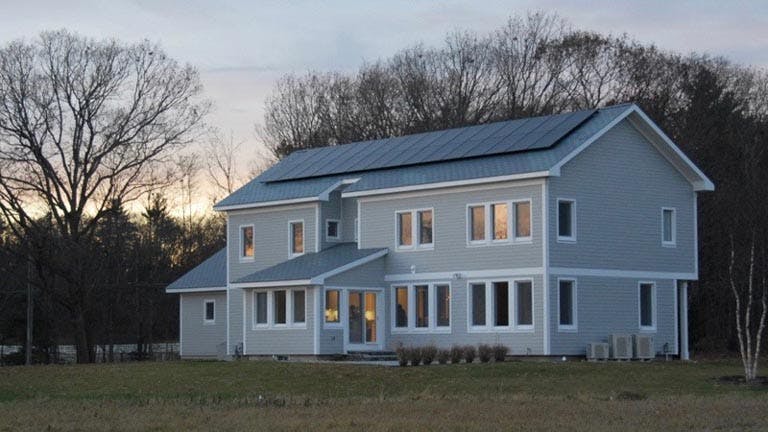 SunBug Solar
1165 Massachusetts Ave. Suite #201, Arlington, MA 02476
Numerous home and business owners, as well as non-profit organizations across the Bay State, have been the recipients of SunBug Solar's services since 2009. Since its founding, SunBug has installed more than a thousand solar systems across Massachusetts, designing and building all types of solar systems. From 1kW to over 1MW systems, the SunBug team has delivered practical solar solutions for each client. As an employee-owned business, the team works together to deliver the best possible solar solutions for each client, and it provides those solutions with fantastic customer service. 
The company's team is composed of NABCEP members. Additionally, SunBug Solar also holds a Massachusetts Electrical Contractor certification and is a member of the Amicus Solar Cooperative, an invitation-only cooperative of independently-owned and operated solar companies nationwide.