The growing popularity of solar energy has made significant changes to Chicago's energy industry. In April 2019, the City Council unanimously voted to establish the goal of transitioning the entire city to 100% clean, renewable energy—wind and solar—by 2035. The Windy City is the largest city in the country to make this commitment, following the lead of cities like St. Louis, Madison, Atlanta, and San Francisco.
And now Chicago residents are beginning to transition to solar energy to power their homes. Many are willing to make the most out of the average 2,500 sun hours the city gets in a year. To make this possible, a lot of residents are relying on national and local contractors that offer custom installations for the best possible price. 
This article features the top 11 solar contractors serving Chicago today. The list includes multi-state firms and local contractors capable of providing turnkey energy solutions, from panel procurement and energy audits to custom design and engineering to fit every home. Our team selected these contractors based on a number of criteria, including awards earned, rankings in other publications, stellar customer reviews, the overall history of the company and principal, and each firm's overall standing in its local community.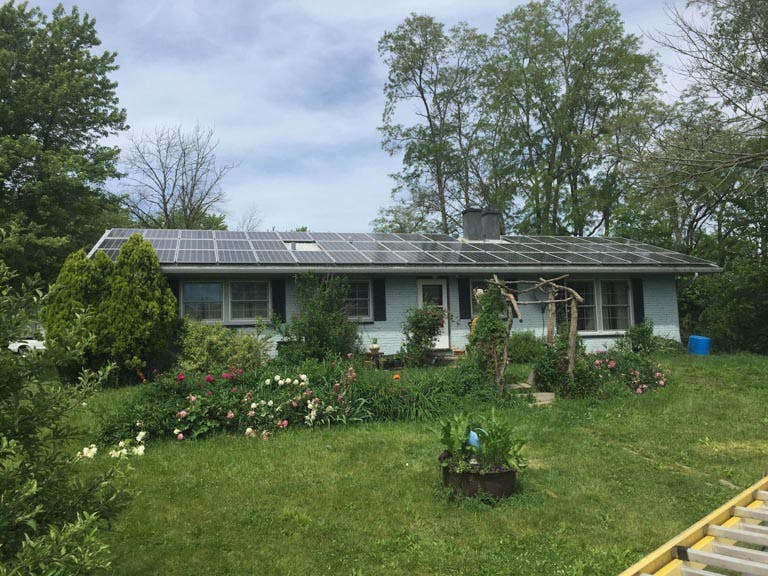 Ailey Solar
1965 W Pershing, Chicago, IL 60609
Locally owned and operated Ailey Solar is a solar and home battery system designer and installer serving the entire Chicagoland area. The company was founded by Jack Ailey and Dorian Breuer whose goal is to provide safe and affordable safe solar installations throughout Illinois. The two captain a team of NAPCEP certified professionals and they have led the firm in notable collaborations such as completing electrical work and battery installation for the Bronzeville Solar Pyramid art piece and installing a 5.3 kW solar power system for the Fleet Fields in Lincoln Yards.
A member of the Illinois Solar Energy Association, Ailey Solar has been selected as one of only two solar installers for the Solar Chicago program of bringing low-cost solar power to hundreds of Chicago residents. It is also the only residential solar installer in Illinois that is a unionized contractor.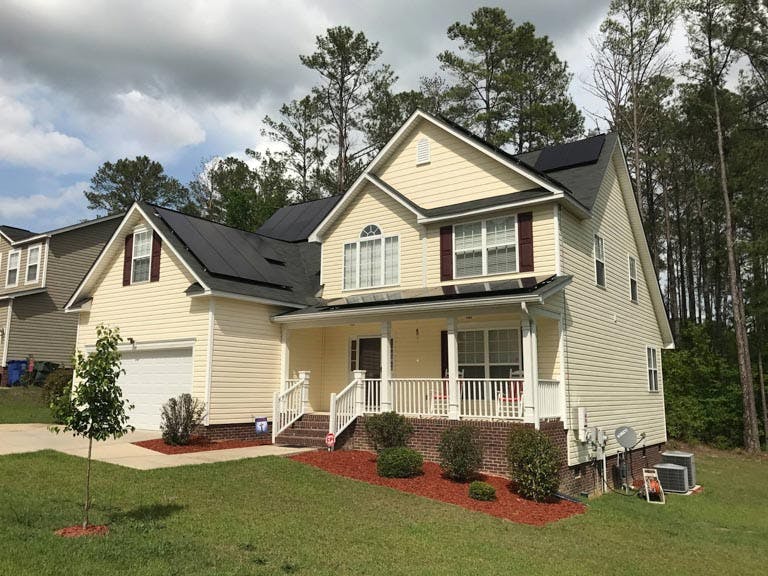 Blue Raven Solar
1300 Greenbrook Blvd. Suite #302, Hanover Park, IL 60133
Blue Raven Solar has proved to be one of the biggest names in the solar industry today. Headquartered in Utah, the national company now has offices in 10 states across the nation. As an EPC, it provides full turnkey services courtesy of its vast workforce of 800 people. Its in-house team provides services for sales, financing, site survey, design, engineering, permitting, procurement, construction, and interconnection.
The firm has earned various awards and accolades for its continuous development, innovation, and contribution to the solar industry. It was named the 5th fastest growing company in Utah in 2019 by Utah Business Magazine and one of Inc.'s 5000 Fastest Growing Companies in the nation. In 2017, it was ranked among Solar Power World's Top 500 Solar Contractors. It has also earned Utah's Best of State Award in Solar Technology for 2018.
Blue Raven Solar was co-founded by Ryan Lee, Jeff Lee, and Tyson Peschke in 2014. Their strong leadership and business backgrounds have laid the foundation for much of the firm's success. CEO Ben Peterson continues this by ensuring the company upholds its mission of providing a world-class customer experience through a reliable sales process and speedy, high-quality installation.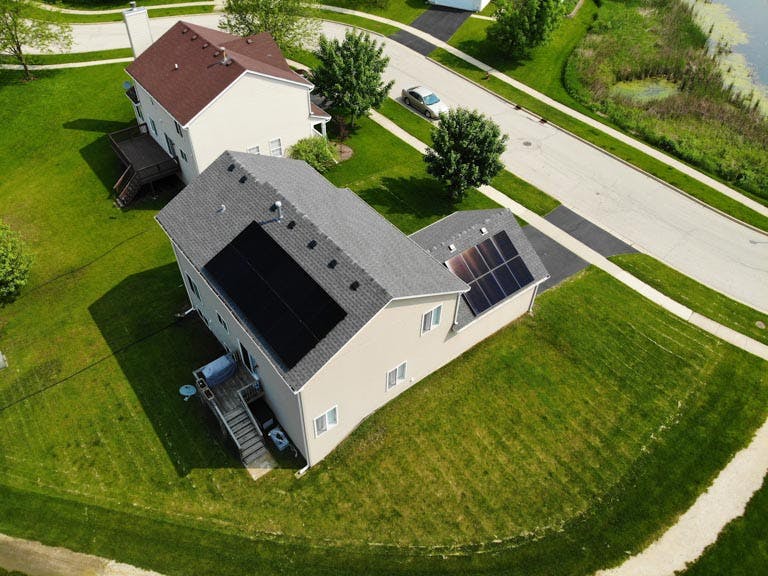 Certasun
1582 Barclay Blvd., Buffalo Grove, IL 60089
Certasun is a local solar contractor that combines years of expertise with tailored customer service to produce high-quality installations. The company primarily provides residential solar installations throughout the Chicagoland area, including Cook, DuPage, Kane, Lake, McHenry, and Will counties. Aside from its team of trained in-house team of installers and electricians, clients praise the firm for its highly personal customer approach. Certasun works closely with each homeowner to create a solar system uniquely designed for their home and is tailored to meet its energy needs. The company is a certified Elite Dealer of SunPower equipment and offers a unique 25-year production guarantee. While most installers only offer the standard power warranty, Certasun's production guarantee assures homeowners that their solar energy systems are performing as expected for the next 25 years — and in the unlikely event that it doesn't, the company will cut a check for the client.
Although a young company founded in 2018, Certasun's team is filled with experienced staff and professionals that can handle any residential type of installation. Founder Josh Lutton started the company after nine years as a Managing Partner of Woodlawn Associates. His experience at a consulting firm—where he provided advisory services to solar equipment manufacturers, financiers, and out-of-state solar installers—gave him great insight into solar power systems and its benefits to society. He is joined by Iain Drummond, who has a master's in Applied Physics and has experience consulting for renewable energy companies on operations.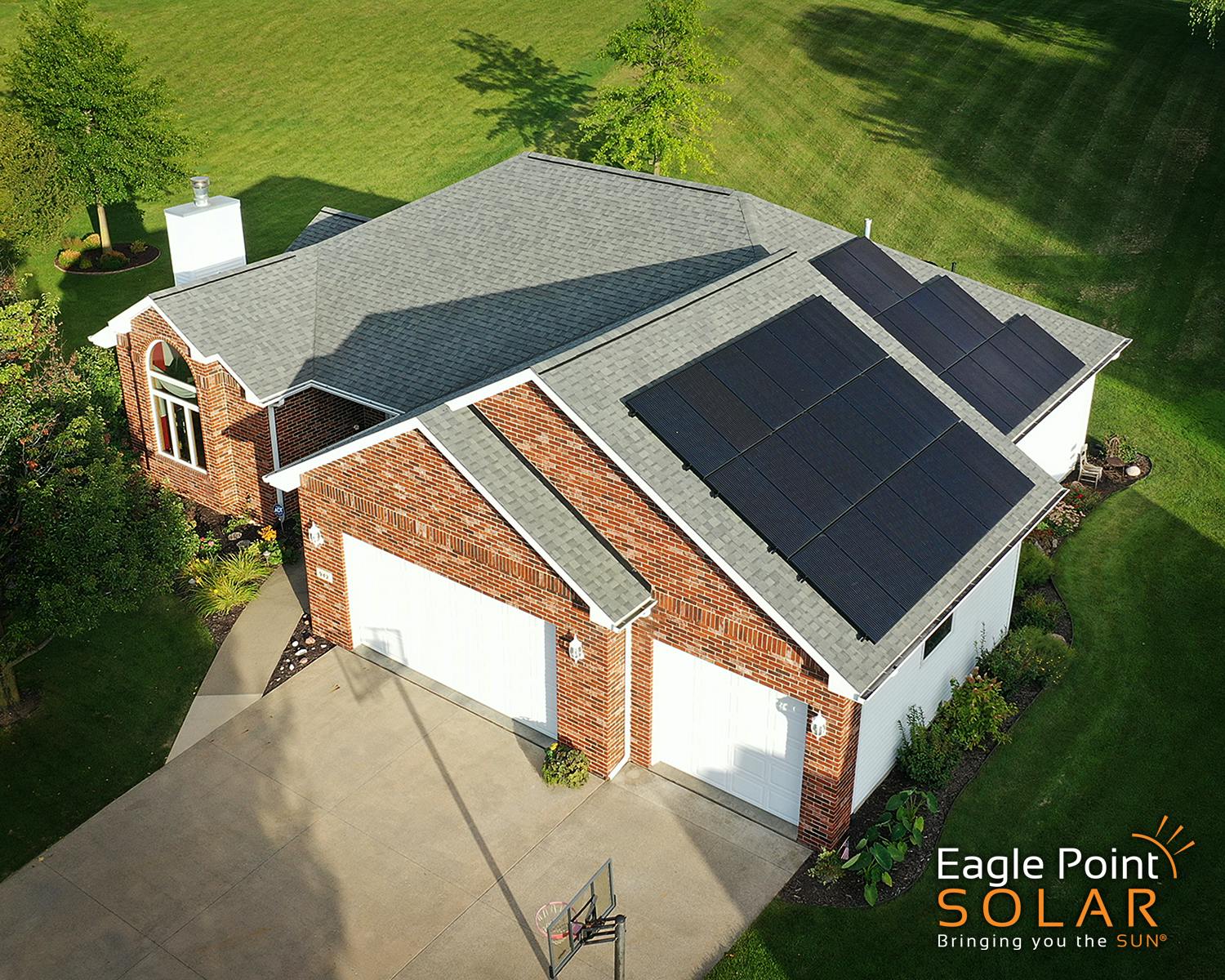 Eagle Point Solar
930 S 5th Ave., Canton, IL 61520
Eagle Point Solar is dedicated to providing renewable solar energy solutions throughout Iowa, Illinois and Wisconsin. This full-stack alternative energy contractor has designed, engineered and built systems of all sizes for residential homes, small businesses, large commercial facilities, agricultural operations, local government, academic institutions, and local utilities. Eagle Point Solar is one of the largest solar installers in the Midwest, and is consistently ranked as a Solar Power World Top 500 Solar and Solar + Storage installer in the U.S.
In addition to providing turnkey energy management solutions, Eagle Point Solar offers sales, design and engineering, permitting, utility interconnection, construction, and maintenance. The company has a track record of over a thousand installations made possible by its professional staff of NABCEP certified designers, master electricians, and individuals with decades of construction management and administration experience. The firm is a member of the American Solar Energy Society and the ISEA.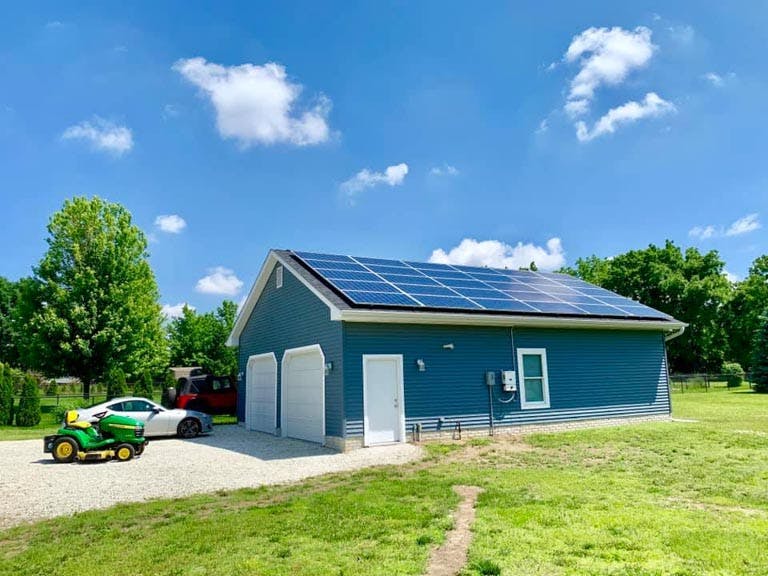 Fosler Solar
8595 Pyott Rd., Lake in the Hills, IL 60156
Fosler Solar is a full-service solar contractor that grew out of a third-generation local family construction business in Freeport. As the solar arm of Fosler Construction, the company is well-versed in the construction process and incorporates renewable energy into its projects. Fosler Solar is headed by Paul Fosler who continues the 20-year family tradition of quality construction while integrating the emerging technology of energy efficiency. He keeps the firm updated with the trends by participating in Solar Industries Leadership Conferences and through active membership in the Midwest Renewable Energy Association and the Illinois Solar Energy Association.
Fosler Solar provides full design, installation, and maintenance of solar PV systems for agriculture, commercial, and residential customers. For homeowners, the company takes into account how much space is available and the homeowner's traditional electricity consumption. The firm's goal is to match the size of the installation with the homeowner's energy needs so that there is no need to buy kilowatt-hours from the state's electric provider.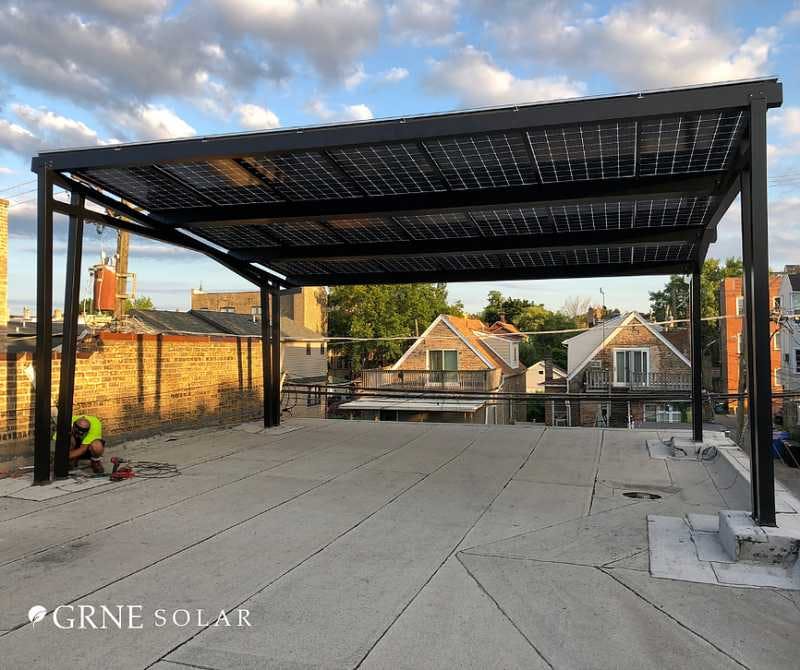 GRNE Solar
230 N Hicks Pl., Palatine, IL 60067
A wide service reach and expertise in both commercial and residential makes GRNE Solar a leading solar installer and provider across the Midwest. Its diverse team of consultants, engineers, project managers, electricians, and solar installers collectively boasts more than two decades of renewable energy and green construction experience. The firm was established in 2012 by principals Jess Baker and Eric Peterman. Today, Baker mans the operations in Nebraska while Peterman runs the Illinois office.
From large commercial 100kW systems with over 3,500 panels to 7kW custom home installations, the firm is skilled at a wide range of solar system types for residential commercial, government and agriculture sectors. GRNE Solar's resume includes ground, rooftop and carport setups. It is also fluent in various PV modules along with inverters including String, Micro, and power optimizers. Because of its expertise, many Chicago homeowners trust the firm to guide them in every step of the solar installation process.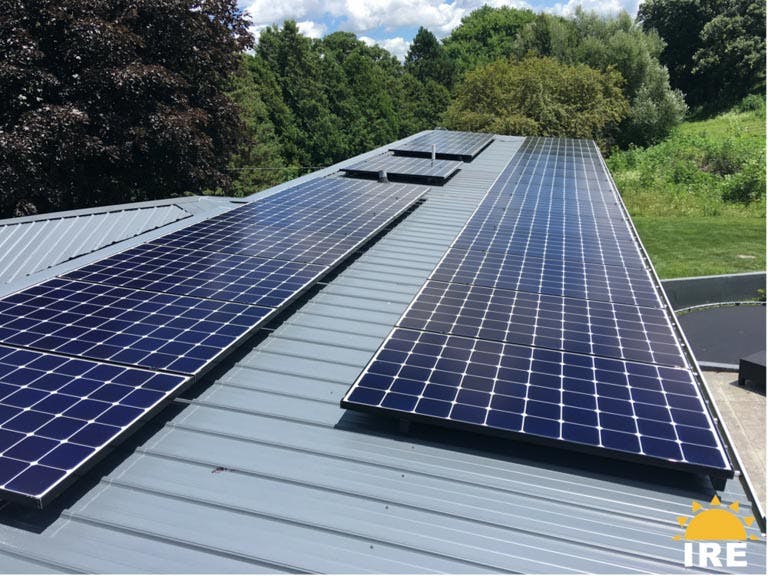 Independence Renewable Energy
926 E Church St., Sandwich, IL 60545
Independent Renewable Energy is a small, family-run business that specializes in residential & commercial solar installations. Launched in 2010, this locally-owned contractor offers design, sales, installation, and maintenance of solar energy systems as well as full service electrical contracting. The firm is highly recommended by clients for its clear and exact process from plan design to plan execution. IRE is a member of the Midwest Renewable Energy Association and the ISEA.
At the helm of the company is husband-and-wife team Norm and Jen Johnson. Norm has 25 years of experience as a commercial electrician, and he considers it his personal mission to provide affordable solar power in the Midwest. Jen has years of sales experience and establishes longstanding relationships with the firm's customers and clients. Together, they lead the firm in serving Northern Illinois and Chicagoland.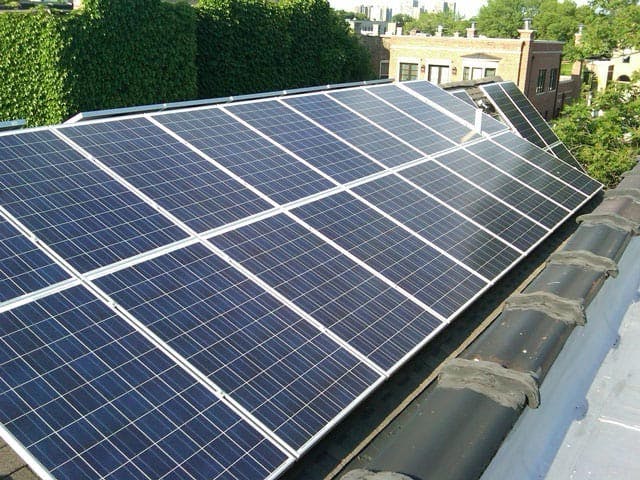 Magitek Energy Solutions Inc.
2408 Dakota Ridge, Johnsburg, IL 60051
Since 2008, Magitek Energy Solutions Inc. has completed hundreds of small wind and solar energy installations throughout northern Illinois. Its diverse residential and commercial portfolio demonstrates that the firm is capable of installing a variety of solar panels and array types, as does its highly trained team of solar power technicians in the Northern Illinois and Southern Wisconsin region. For roof mounted installations, the firm can work with composite shingles, metal, and flat roofs. It also does ground mounted solar installations typical in farms and other businesses. Homeowners choose the company for being exceptionally knowledgeable about solar installations, building codes, and solar potential. 
Initially an electrical contractor, Magitek Energy Solutions Inc. has over 20 years of experience in powering homes and businesses. Founder and owner Paul LaBarbera heads the firm's team and personally meets clients and customers to fully educate them about solar energy and how solar panels can best be put to work for them. The company has also worked with a number of local municipalities as a consultant and advisor as they draft well-considered, responsible ordinances for wind and solar installations. Magitek Energy Solutions Inc. is a member of ISEA, the Midwest Renewable Energy Association (MREA), and it is a UL certified PV installer.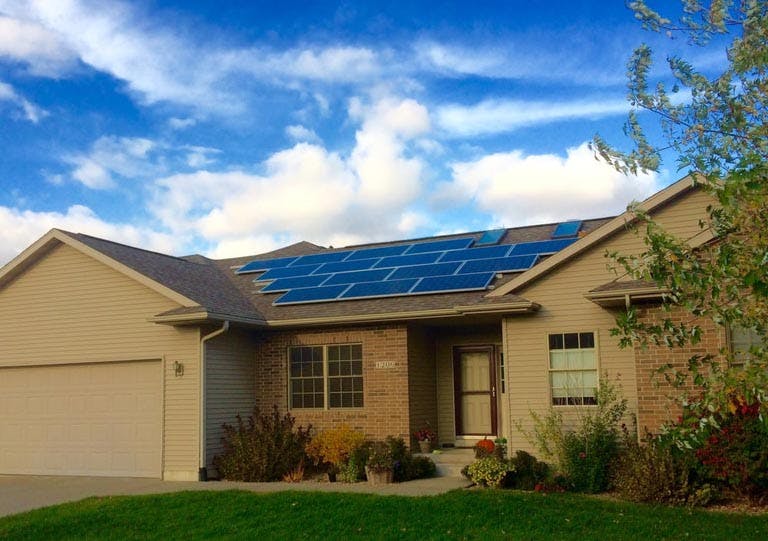 Moxie Solar
2101 W Carroll Ave. Suite #100, Chicago, IL 60612
Multi-state solar installer Moxie Solar started in Iowa with the aim of bringing new energy options to the state. Eleven years later and over 500 successfully completed projects, the Moxier Solar has become a force in the solar industry. The company now has offices in Texas, South Carolina, Colorado, Indiana, Ohio, and Illinois. It serves the commercial, agricultural, and residential sectors with custom designs and installations of solar panels, energy storage, and electric vehicle chargers.
Led by CEO Jason Hall, Moxie Solar has gained numerous industry and customer service awards. In 2018, it won the Gazette Business Award for Sustainability and was part of Inc.'s 5000 list of the fastest-growing private companies in America. The firm is also a BBB Torch Awards Honorable Mention, proving its adherence to good business values and ethics. Additionally, the firm is a member of the Illinois Solar Energy Association. 
A popular option for homeowners is the firm's roof-mounted solar arrays. Moxie Solar installed solar panels on this home in Chicago that participates in the Illinois Solar Renewable Energy Credit program and gets paid for extra energy produced.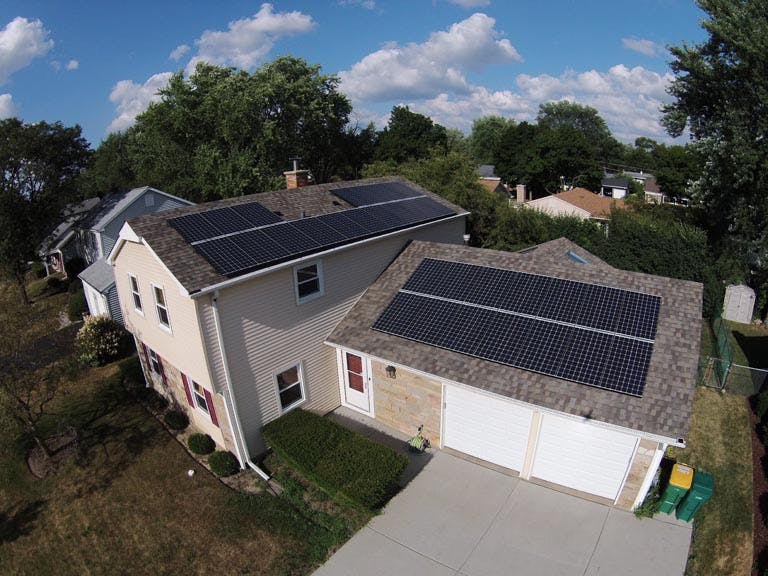 Windfree Solar
5022 W Foster Ave., Chicago, IL 60630
A leader in providing alternative energy solutions in Chicago is Windfree Solar Founded in 2009 by Doug Snower, this full-service wind and solar energy company has consistently been ranked among Solar Power World's Top 500 Solar Contractors since 2014. It specializes in both commercial and residential systems, with clients from the religious, educational, and government sectors. Since its establishment, the firm has completed more than 400 certified installations, including solar panels on the Illinois Governor's Mansion, the Shir Hadash Synagogue, and the US Marine Corps Reserve Training Center in Chicago. The firm also won the 2015 Bronze Sustainability Award from the Supply Management Institute for making clean energy systems easier to procure.
Windfree's team is composed of leaders and professionals dedicated to adopting sustainable technologies. It has NABCEP and ICC distributed generation certified installers with nearly 40 years of combined expertise in solar and wind power technology. The team also features project managers with extended education in environmental management, sustainability, and business. Leading them all is Doug Snower and his partner, CEO Eric Heineman, a graduate of Environmental Studies from the University of Vermont.
The company's first installation was ten years ago at Chicago Public School Burr Elementary School. Since then, it has installed solar power in several Chicago neighborhoods and suburbs, including Wilmette, Burr Ridge, Libertyville, and the greater Chicago metro area. The project featured here is a 10kW solar energy system on a home in Buffalo Grove.
For more information about Windfree Solar, you can visit their website at https://www.windfree.us/.